Last week we visited
Woolsthorpe Manor
the childhood home of Sir Isaac Newton. Isaac return to his child hood home during the plague and it is here where he worked on his theories of light and gravity.
Sir Isaac had a rough beginning in life as his father died prior to his birth. He was born prematurely on Christmas Day and not expected to live! His mother remarried but left Isaac at Woolsthorpe where he grow up very lonely and was often bullied by other children due to his unusual ways.
The house, we were not allowed to take pictures inside. Most of the furnishing inside were replicates of the period. The house is not grand but still large for the period.
Right outside the front door is a small apple orchard. It is here that the famous apple tree can be found. And in case you are wondering the type of apple tree it was it is called Flowering Kent Apple tree. In 1820 the tree blew down in a storm, luckily the roots remained strong and it regrow and this is the tree today. There are several descendants of the tree planted around the world, USA, China and in England so should this tree ever die their will be another to carry on its claim to fame:)
View of the house from the orchard
Sign next to the famous apple tree
Front door of the house. Above the entrance is the family crest of the Newton family. It is believed to be two sheep bones as the family were wool merchants.
After touring the house we went to the Science center where the kids could learn more about his experiments.
Separating out the colors of light
Learning about the 3rd law of equal and opposite reaction.
Using prisms to make white light and to separate out the colors of light
Centripetal force
We also learned that there were lots of rivalry among scientist with them often trying to steal one another's work. Sir Isaac Newton was particularly difficult to work with according to other scientists. We have since read that Sir Isaac had large amounts of mercury in his body which may account for some of his strangeness in later years.
We had a fantastic day learning about Sir Isaac Newton and learning all about him. I am linking this post to The Field trip hop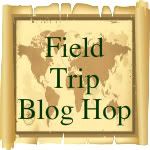 The voting begins via
Homeschool Post
. Life's Adventure has been nominated for Best Nature/Field trip blog, if you feel so inclined please head over and vote! It is much appreciated:)